Call for Nominations
Matanuska Valley Federal Credit Union is currently accepting nominations for the 2019 Board of Directors election. The deadline is Monday, January 28, 2019. All MVFCU Board members serve as volunteers and are either elected by the MVFCU membership or, under special circumstances, appointed by the Board of Directors.
You must be a MVFCU primary member in good standing to serve. If you are interested in serving on the board, or know someone who is, please call MVFCU at (907) 745-4891, (907) 694-4891 or (808) 677-6206 no later than January 28, 2019.
Nominations by Petition
Members who desire to serve, and have not been placed in nomination by the Nominating Committee, may be placed in nomination by petition. The petition must be signed by one percent of the members (approximately 447 members). The petition must also be accompanied by a signed certificate from the nominee that states they are willing and able to serve, if elected.
Nominees shall provide a brief statement of qualifications and biographical data with the petition. All petitions must be received by the credit union on or before March 13, 2019.
---
CEO SPOTLIGHT
By Ed Gravley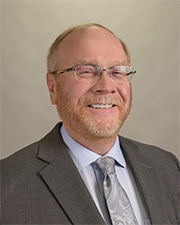 I'm writing this article after the most recent unplanned disaster that affected our members and staff.
The devastating 7.0 earthquake on November 30th in Alaska or the August 23rd Hurricane Lane storm in Hawaii last year provides a quick reminder for the need to plan ahead for disasters that may come at any moment.
The planning process allows you an opportunity to determine what resources you may need or actions to take in the case of an unplanned disaster to ensure you and your family are safe and secure.
There are many resources available to help guide you in the planning process of how to withstand a disaster. I would encourage you to take advantage of some of these resources.
Two sites that have a great deal of information for before, during and after a disaster such as a hurricane or earthquake are www.fema.gov and www.ready.gov.
I would also encourage you to take advantage of many of the services the Credit Union has to offer you in a time of unplanned disaster. Services which will allow you to weather the storm and feel comfortable that financial resources are available to help you in a moment of unplanned need. I would like to share some of the services your credit union provides 24/7 365 days a year that may be helpful for you and your family when withstanding an unplanned disaster:
First of all we always strive to make our convenient Community Offices accessible as quickly as possible once the facilities are determined to be safe and staff are available.
Online account access, whether by computer or mobile devices, allows access to your account wherever you may be.
Easy access, a 24/7 365 day service that allows you to check on balance and transfer funds with many more functions through the use of a touch tone phone.
Line of credit loans and an equity line of credit that allow you rapid access to funds for unplanned events.
Online bill pay to help with payments.
Visa debit and credit cards that allow for easy access to funds at merchants and ATMs.
Additionally, we have professional staff available to help you with unplanned lending needs.
As with most disaster preparedness plans, I would encourage you take an inventory of financial services you might need day to day or in the event of an unplanned emergency. Please visit with one of our knowledgeable staff members to help you select services that will help you better prepare for an unplanned disaster. With proper planning we all will be better prepared to ensure the safety of our loved ones.
---
Alaska: Direct Deposit your PFD
The Fast and Safe Way
Having your Permanent Fund Dividend (PFD) deposited directly into your MVFCU account is fast, safe and easy.
Just use these guidelines when you file for your 2019 PFD:
Enter CS for the MVFCU "Bank Code"
Enter your account number as instructed in the application. Your account number is found in the upper right corner of your periodic MVFCU statement.
The filing deadline is: March 31, 2019.
---
eNotifications
MVFCU offers you the ability to receive eStatements and eNotices electronically instead of paper as part of your account services. Our most recent addition, eNotices, allow you to receive electronic notices for the following account services:
CD Maturity Notice
Overdraft Notice
Line of Credit Billing Notice
New Loan Notice
Over Credit Limit Notice
Past Due Payment Notice
Uncollected Funds Notice
In order to sign up to receive these notices electronically, members will need to sign up for MV Online. Once enrolled, an email will be sent to the member when an eNotice is added to their MV Online account. If you already have an MV Online account, the electronic notices will begin shortly.
When you sign up for MV Online, members will automatically be enrolled in eStatements. These electronic statements will be uploaded to the same location as the eNotices. Should you desire to opt-out of eStatements and eNotices, members can call the Contact Center 907-745-4891.
eStatements and eNotices are the fastest and most secure way to track your personal finances and all for no charge! Sign up to go paperless today!
---
Privacy Policy
At Matanuska Valley Federal Credit Union, we respect the privacy of our members. We recognize the importance of maintaining the confidentiality of your personal financial information. You can find our Privacy Policy in many places, but the easiest is on our website. Privacy Policy
---
It's about time to corral those loans

With a Debt Roundup Signature Loan
Saving money and debt consolidation are good goals for the New Year. People work hard to get out of debt and save money. While there are many different paths to get out of debt, sometimes consolidation is the first step.
This year's Debt Roundup promotion will run from March 1 through April 15, 2019, so stay tuned to mvfcu.coop and our MVFCU Facebook page!