CEO SPOTLIGHT - Financial Planning
By Ed Gravley
Have you checked out the Matanuska Valley Financial Services Program yet? Designed exclusively for credit union members, and located right here at the credit union, the Matanuska Valley Financial Services Program offers retirement, insurance and investment programs designed to help you and your family through a lifetime of financial planning needs.
Some of the products and services available include:
401(k) / Pension Rollovers*

Retirement Planning

Education Funding

Mutual Funds

Life Insurance

Long-Term Care Insurance

Wealth Management

Tax-managed Investing**
Whether you're looking for guidance on just one financial need you want to tackle today, or if you're interested in putting together a comprehensive plan, please call the Matanuska Valley Financial Services Program at 907-745-9182 for a no-cost, no-obligation analysis with our financial advisor, Robert Morgan.
And, in the spirit of the credit union philosophy, this Program is designed to assist a wide variety of members – from those just starting a savings plan, to those with sizable assets looking for more sophisticated financial management tools.
Thank you for being a member of Matanuska Valley Federal Credit Union and for trusting us to make available only those financial services most suited to your needs.
*Prior to requesting a rollover from your employer sponsored retirement account to an Individual Retirement Account (IRA), you should consider whether the rollover is suitable for you.
There may be important differences in features, costs, services, withdrawal options and other important aspects between your employer sponsored retirement account and an IRA.
**Representatives are not tax advisors. For information regarding your specific tax situation, please consult a tax professional.
Securities sold, advisory services offered through CUNA Brokerage Services, Inc. (CBSI), member FINRA/SIPC, a registered broker/dealer and investment advisor.
CBSI is under contract with the financial institution to make securities available to members.
Not NCUA/NCUSIF/FDIC insured, May Lose Value, No Financial Institution Guarantee. Not a deposit of any financial institution.
FR-2726282.1-0919-1021
---
Meet Stephanie
Eagle River's Community Office Manager
Stephanie has worked in credit unions here in Alaska for the past thirteen years; eleven of which have been in branch management. She could not be more thrilled to be a member of the Matanuska Valley FCU team. She believes her "small town" sense of community and sincere desire to assist people fall directly in line the credit union's core values. She looks forward to serving the people of Eagle River; as they have done for her family these past seven years.
Stephanie was born in Everett, Washington but grew up a small town girl. Right down to appearing as a princess in the annual Railroad Days Parade of Granite Falls, Washington. Being a logger's daughter, she trekked back and forth from that small town to the Olympic Peninsula until she was 10 years old. Her daddy visited Alaska as a young man and fell in love with Klawock, a small village on the Prince of Whales Island. Knowing it might be a little too recluse for Stephanie, her parents settled on Juneau, where she lived until she was 15. At the time, Stephanie had grandiose teenage dreams of becoming a dancer for MTV music videos. So, she moved Everett, Washington, allowing her family to finally move to the Island.
Ten years later, Stephanie grew tired of city life and decided to give Alaska another try. The day she landed in Anchorage, she met the love of her life. She and Michael will celebrate their 21st wedding anniversary this October. They moved to Eagle River seven years ago immediately wished they had done so sooner! Michael has a daughter serving in the Air Force and together they have three teenage children. Their oldest is attending college in Idaho, where he is also playing football. The other two are student athletes at Eagle River High School. Michael coaches for the school's football and basketball programs, while Stephanie is the Vice President of the football's booster program. They are also a shepherding couple in their church's Matanuska Valley chapter, which ranges from Eagle River to Talkeetna. If you spend any amount of time with her, you will find out she is obsessed with God, her family, Wonder Woman, the Seahawks and the color pink.
---
Time to Check-in
by Chris O'Shea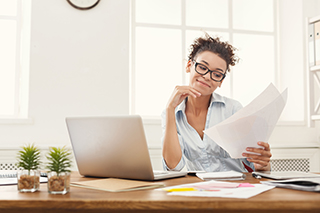 Don't look now, but 2019 is almost over. Summer has ended, the holiday season is set to begin any day and the end of the year is in sight. That means it's the perfect time to give yourself a financial checkup. Here are some tips on how to do just that.
Update Your Budget
You should check in on your budget regularly. Doing so will allow you to monitor spending and saving, and make sure your habits are still aligned with your long-term financial goals. Reviewing your budget will also highlight needless spending — think subscription services that you never use — and allow you to cut it out.
Increase Retirement Savings
Did you know that in 2019, the maximum contribution limit on employer-sponsored 401(k) retirement plans increased from $18,500 to $19,000? If you didn't, that means it's time to bump up your contribution. Make sure you review your retirement savings plan and increase your deposits if at all possible.
Call About Charges
Now is a good time to call credit card and utility companies about their pricing. As US News reports, many times you can save cash simply by calling and asking for a lower interest fee or, in the case of a cable bill, a lower monthly rate.
Check Your Credit
You're entitled to one free credit report from each of the main credit reporting bureaus per year. Plus, many times your financial institution provides this service for free! Take advantage of that and check-up on your credit. If there are any inaccuracies, report them immediately.

---
Thank You from MVFCU!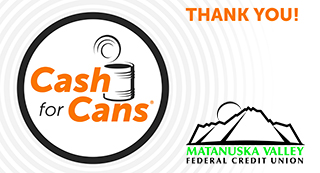 Thank You! To those that donated to Cash for Cans. Your donations raised over $1,200.00 to help supply the food banks in your communities for this Holiday Season.
Cash for Cans is in cooperative effort among credit unions in Alaska and in conjunction with September being national Hunger Action Month.
Hunger Action Month was established by Feeding America back in 2008, when it decided it was time for a nationwide push to get involved with the hunger crisis across the country.
During September people everywhere help to feed the needy in their neighborhood and country, working to ensure that the 48 million people who live with hunger every day can get some relief. Food deprivation is a problem for more than just adults as well, children all over the country go to school without a proper breakfast, leading to difficulty focusing on their education, alertness, and generally performing well.
Matanuska Valley Federal Credit Union is proud to be part of this campaign that helps our members in Eagle River and the MatSu Valley.
---
2019 Holiday Signature Loan
Our Holiday Signature Loan is a convenient, low-cost alternative to your high-rate credit cards during this holiday season!
When the Holidays roll around, it's easy to get carried away in the season of giving. Putting others before yourself doesn't have to mean making a hasty financial move you might regret later ... even for the big things.
Instead of piling up a huge credit card bill, consider a Holiday Signature Loan. We offer lower interest rates than your credit card, and that's better for you AND your family.
Apply today at any one of our ten community offices.
From all of us at MVFCU, we wish you Peace and Joy this holiday season.
---
Old News is History
First Quarter 2019 Second Quarter 2019 Third Quarter 2019