2016 Board of Directors Election
As a credit union, we are a financial cooperative that is owned by its members, not stockholders. Because of this distinction, each member, regardless of the size of their account, has one vote in electing a volunteer Board of Directors. This assures that your credit union's focus on your financial interest is not lost.
There are two (2) positions open for the 2016 MVFCU Board of Directors election being held April 4 through May 4. As a credit union, we offer our members two convenient methods to cast their ballots: Online and paper
Voting online takes just a few minutes and saves the membership thousands of dollars in printing and mailing expenses! To learn how to cast your online ballot, visit www.kunia.coop/votenow.
If you prefer a paper ballot, request one at any MVFCU office or one will be mailed to you by calling (808) 677-6206 or (907) 745-4891. Requests for mail ballots must be made by the close of business on April 20. All ballots must be received by the end-of-day on May 4.
Election results will be announced at the 2016 Annual Membership Meeting on May 10. There will be no nominations from the floor at the membership meeting.
» top «
New Security Education Center
Matanuska Valley Federal Credit Union, wants to keep you you up to date with the latest Financial Security concerns. Take a few minutes and check out the new Security Center on mvfcu.coop. » Security Center«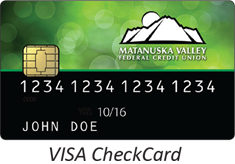 Credit and Debit Card Updates
As MVFCU grows and expands its services, a new standard for our cards made sense. Beginning in April, we are excited to begin rolling out our first two cards with this distinguished design, our VISA CheckCard and Credit Cards.
The new designs will naturally be replacing any current cards as they expire.
Lessons from Geese
By Al Strawn
Its spring time in Alaska and soon the geese will return to the surrounding fields! There are some important lessons that we can learn from geese. They include our need for community, leadership, interdependence, encouragement and standing with each other in challenging times.
Fact 1: As each goose flaps its wings it creates an "uplift" for the birds that follow. By flying in a "V" formation, the whole flock adds 71% greater range than if each bird flew alone.
Lesson: People who share a common sense of direction and community can get where they are going quicker and easier because they are traveling on the thrust of one another.
Fact 2: When a goose falls out of formation, it suddenly feels the drag and resistance of flying alone. It quickly moves back into formation to take advantage of the lifting power of the bird immediately in front of it.
Lesson: If we have as much sense as a goose we stay in formation with those headed where we want to go. We are willing to accept their help and give our help to others.
Fact 3: When the lead goose tires, it rotates back into the formation and another goose flies to the point position.
Lesson: It pays to take turns doing the hard tasks and sharing leadership, as with geese, people are interdependent on each other's skill, capabilities and unique arrangement of gifts, talents or resources.
Fact 4: The geese flying in formation honk to encourage those up front to keep up their speed.
Lesson: We need to make sure our honking is encouraging. In groups where there is encouragement, the productivity is much greater. The power of encouragement (to stand by one's heart or core values and encourage the heart and core of others) is the quality of honking we seek.
Fact 5: When a goose gets sick, wounded or shot down, two geese drop out of formation and follow it down to help and protect it. They stay until it dies or can fly again. Then they launch out with another formation or catch up with the flock.
Lesson: If we have as much sense as geese, we will stand by each other in difficult times as well as when we are strong.
"Lessons from Geese" was transcribed from a speech given by Angeles Arrien at the 1991 Organizational Development Network and is based on the work of Milton Olson.
2016 MVFCU Annual Membership meeting
Our Annual Membership Meeting will be Tuesday, May 10, 2016, at Mat-Su Senior Dining Room in Palmer. Doors open at 6:30 p.m. and the meeting begins at 7 p.m.!
MVFCU Adventure sale
One day Only!
Saturday, May 21, 2016
Seward Meridian
Community Office
10:00 a.m.-4:00 p.m.
Our Annual Adventure Sale will be Saturday, May 21! Be sure to watch our website, www.mvfcu.coop, and our MVFCU Facebook page for more details!