36th Annual AVIS SALE!
Join MVFCU and AVIS at the 36th Annual AVIS SALE!
AVIS Alaska has the pictures and more details up for cars and trucks that will be at the AVIS Sale.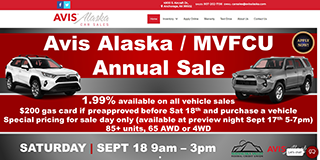 You can also prequalify using the apply now button on that page.
Don't miss out on this exclusive opportunity! September 18, 2021 from 9 a.m. – 3 p.m. to own one of AVIS' meticulously maintained vehicles at prices and rates so low, they can't be beat.
For This Event Only Qualified Buyers Will Receive:
100% Financing!
1.99%* APR** up to 72 months
Prices BELOW Avis' already low prices
A 30-day warranty & service agreement
* Payments will be $14.75 per $1,000 borrowed on a 72-month loan at 1.99% APR. Must meet minimum qualifications for the loan. Must be or become a member of MVFCU.
** Annual Percentage Rate (APR)
---
Prequalify
By calling 1-800-976-5198
At your local community office
Getting prequalified by September 16, 2021 and close on Avis vehicle during sale event gets you a $200 fuel card mailed to you as a way of saying thanks!
For the latest updates follow MVFCU on FACEBOOK.
---
Preview Night
Kick the tires on Friday, September 17, from 5-7 pm on the lawn of the Seward Meridian Community Office. Representatives from MVFCU and AVIS will be available for questions and any last minute prequalification applications.
---
Day of the Event
Vehicles are first come, first serve, so arrive early on September 18 to get your car at the Annual AVIS Sale!
---
Protect yourself and your ride...
MVFCU offers some exiting optional protection for you and your car
---
GAP or Guaranteed Asset Protection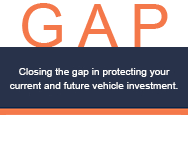 A voluntary, non-insurance program offered as protection on your financed vehicle to enhance, rather than replace, your standard insurance coverage.
---
Credit Companion
Under the Credit Companion Debt Protection program, your loan balance may be canceled or your monthly loan payments canceled without penalty or added interest.
---