$500 Signing Bonus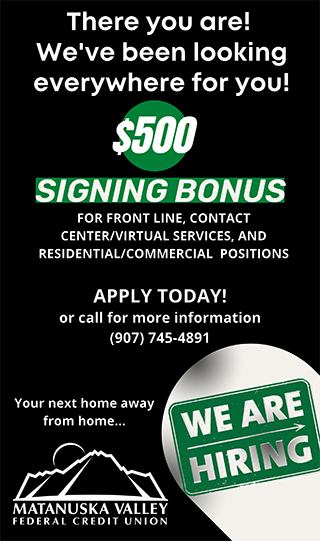 Why MVFCU
Here at MVFCU, we are a family committed to investing in your success. MVFCU is an equal opportunity employer. We strive to provide you a healthy work-life balance while offering competitive wages and benefits:
Generous Paid Time Off
Medical, Dental, and Vision Insurance
401k Retirement Plan with Employer Match
Paid Holidays
Volunteer Opportunities
Employee Events
Life and Disability Insurance
Education Reimbursement
Do you need cash for a project?
Our commercial and construction loan programs have been developed to aid our members in the complete scope of their financing needs.
MVFCU IS HERE to finance your:
‣AIRCRAFT
‣CONSTRUCTION
‣EQUIPMENT
‣REAL ESTATE
‣MEDICAL & DENTAL EQUIPMENT
‣OPERATING LINES OF CREDIT
Call to setup an Appointment Today! 907.745.9165
Norm Rindlisbacher
Commercial Loan Officer

501 N Main Street
Wasilla, AK 99654
NMLS #: 1629869
Catherine Katchur
Commercial Loan Officer

501 N Main Street
Wasilla, AK 99654
NMLS #: 1065238
---
Matanuska Valley Federal Credit Union
NMLS #418470
Community Giving
At Matanuska Valley Federal Credit Union, we believe we have a responsibility to help make this world a better place and that starts with how we help our neighbors and neighborhoods thrive every day. As part of our culture, there are guiding principles that help us live our philosophy of "people helping people."
As a local community credit union, we support many nonprofit charitable agencies and organizations within the communities we serve through sponsorships and donations. We are purposeful about our support and have several concentrations which align with our community priorities.
MVFCU following areas:
Youth
Family
Educational
Community Sustainability
We have so many great organizations and non-profits in the communities we serve that truly make a difference in Alaska and Hawaii. While we would love to be able to fulfill every request that comes in, we are only able to support only a small portion of the requests. As we review each application, here are a few questions we consider:
Will these funds help to build a stronger community for Alaska and Hawaii?
How many local people will this request impact?
Who will this request benefit in the community?